Step on the pedals and explore the paths of the Giant Mountains from the saddle of a mountain bike. You will get a good workout, clear your mind, discover a lot of natural beauty and get to know Benecko through and through. And there is really a lot to see!
In the village there are several perfectly marked circuits for recreational cyclists and enthusiastic bikers. A cable car will make the climb to the top easier. We'll get the bikes up there without problems. There are 2 special downhill trails suitable for bicycles and scooters
Thanks to the perfect location of Benecko, you can connect to the cycling routes of KRNAP and go even further. Please note, only on marked cycle paths! Other parts of the Giant Mountains can be reached by cyclobuses. Check out the detailed schedule and choose your destination for your next trip.

Our tips for cycling routes
FAMILY ROUTES
Roudnice circuit (9 km)

Vítkovice circuit (13 km)

Circuit around Žalý (14 km)

Benecko-Mísečky cycle circuit (22 km
ROUTES FOR EXPERIENCED CYCLISTS
Benecko circuit (19 km)

The Great Cycle Route (35 km)
CYCLING AND SCOOTER ROUTES
Benecko – Vrchlabí

Benecko – Dolní Štěpanice

Benecko – Rovinka – Vítkovice
Take a ride on scooters. It is an easy and fun activity surrounded by the Giant Mountains nature. They are suitable for children ages 6 and up. We have all the routes in Benecko perfectly prepared. You can also explore the scooter routes by bike.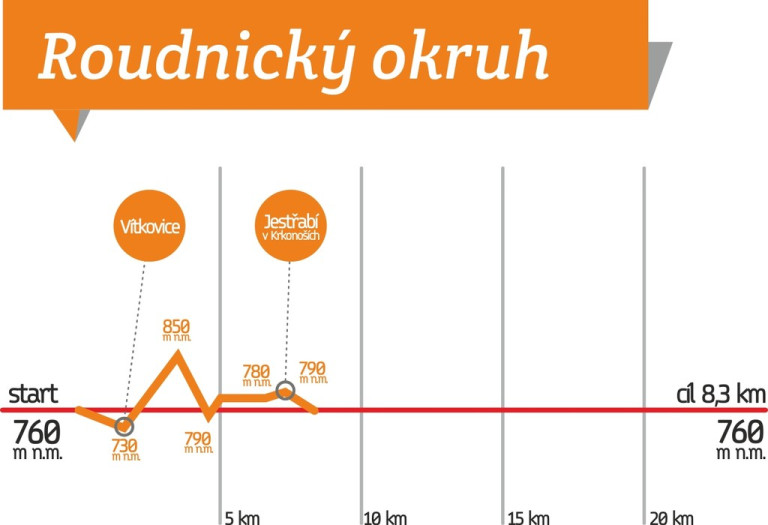 A short family circuit, views of the Jizera Mountains and Giant Mountains, refreshments along the way Route 9 km Roudnice > Vítkovice > direction Rezek > Stromkovická chapel with Way
Read More »