Penzion U Váňů
Benecko 156
Type of device
Cheap accommodation, Sport / Tourism, Stays with children / Guesthouses
Detail informations
The lodging U Váňů is located in a scenic village Benecko. It offers you calm and cozy accommodation in beautiful nature.
Address: Benecko 156, 512 37
Phone: +420 774 556 988
E-mail: lenka.vanova1@seznam.cz
Web: www.ubytovanibenecko.cz
There are 10 beds, extra beds are available. You can choose from two 4-bed rooms and one double room.
The guesthouse is situated in the centre of the village which brings perfect possibility for sports. All sights and paths are close to the guesthouse and trips start mainly from the centre of the village.
Guesthouse is suitable for families with children. In winter there are children's tows and activities right at the house.
In summer our guests can swim in an outdoor swimming pool or sit at the fireplace and enjoy an amazing view of surroundings and sunset.
Prices
Enable Accommodation of Other Persons: No
Facilities and equipment
Equipment
Cot
Extra bed
Hairdryer
Internet / Wi-Fi
Iron
Private bathroom with toilet
Satellite
Shower outside the room
TV
WC outside the room
Device
Garden
Parking
Playground
Swimming pool
1

2

3

4

5

6

7

8

9

10

11

12

13

14

15

16

17

18

19

20

21

22

23

24

25

26

27

28

29

30

31
1

2

3

4

5

6

7

8

9

10

11

12

13

14

15

16

17

18

19

20

21

22

23

24

25

26

27

28

29

30

31
Available

Handled with

Reserved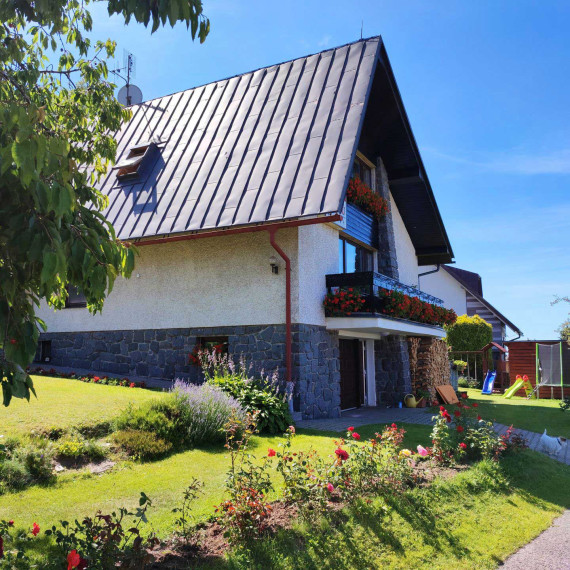 Jazyky

Český, Anglický jazyk
Profile type

Not Verified